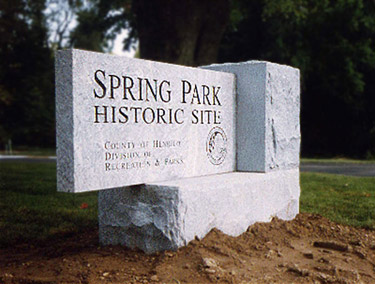 Spring Park Monument
These stones were comissioned by the Department of Recreation and Parks of Henrico County to commerate the historic site where slaves would gather. It is known to be the site where the slave Gabriel Prosser plotted the unsuccessful slave revolt in 1800. More can be read about Gabriel Prosser by clicking here.
The cantilever layout, placement and carving of the granite was the design of David Booth. It can be viewed at the entrance of Spring Park just off Lakeside Avenue (Hermitage Road) at the foot of Bryan Park.