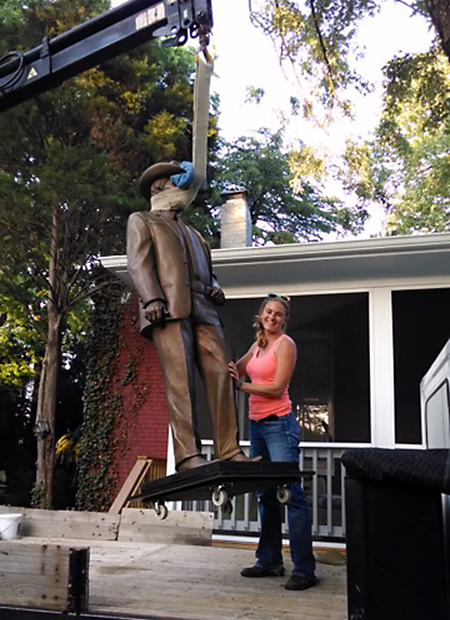 Jimmy Dean Statue
Booth Memorial was hired to move the statue of Jimmy Dean, another sculpture by the famed Paul DiPasquale, who is known for works such as the Arthur Ashe statue on Richmond's Monument Avenue and the King Neptune statue on the Virginia Beach boardwalk. He worked on the Dean statue for about a year, using family photographs and Dean artifacts for guidance and inspiration to create a clay sculpture before the statue was completed at Robert Bricker's Bronze Craft Foundry in Waynesboro.
The statue will be later transported to its permanent home at Wayland Baptist University in Plainview, Texas, which is Dean's hometown.
The finished work — at about 7 feet tall and 800 pounds — depicts a smiling Dean as he appeared in his 60s, wearing a stylish Western suit with his signature boots, oversized belt buckle and cowboy hat.
Below is a picture of Paul DiPasquale along with a detail shot of the statue's face.